Self-Care: Getting to KNOW (Help) MYSELF
Jin Shin Jyutsu can be applied as self-help as well as by a trained practitioner. It is an art of self-harmonizing, self-healing. Listening (jumper-cabling) with hands to the breath of Universal Energy within the body sparks its harmonious flow. As energy flows freely it is available for each individual function of the physical, mental, emotional and spiritual being. Jin Shin Jyutsu self-help can be utilized to reduce stress, to support the body's optimal health and as effortless meditation.
The rediscovery of this ancient, innate art came about in the early 1900s when, by utilizing simple self-help techniques, Jiro Murai recovered from critical illness. In gratitude and awe, he dedicated his remaining 50 years to researching Jin Shin Jyutsu. During her 50 years of studying and practicing the Art, Mary Burmeister, Jiro Murai's student, authored four Self-Care Books. These books offer the awareness, understanding and application of Jin Shin Jyutsu in a simple and resonant form.  As well, there are several other Self-Help Books written by students of Mary which focus on personal experiences, working with animals, and using Jin Shin Jyutsu for those who are critically ill or dying.
"Each of us is the artist and the creator."
Mary Burmeister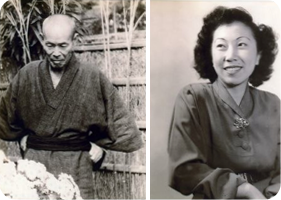 Receiving and learning Jin Shin Jyutsu engages one in self study. We recognize the wisdom of the body and learn to interpret and utilize the body's messages to reestablish balance. Self-Care Classes introduce the breadth of this art, and simple hands-on techniques that can be used by anybody, anywhere, anytime. The self-help techniques can be utilized for family, friends and pets, as well as oneself.
Cynthia and Uzi present Self-Help Classes locally and internationally, singly and as a team. Classes can be designed to empower a family to support a loved one in need, for school or community groups of any age, for hospital staff and/or patients, for a support group or a business team. The focus can be to reduce tensions at the office, complement medical care, calm and clear the mind, harmonize with the changing seasons, or simply to become acquainted with this art of getting to KNOW (Help) MYSELF.
View video of Cynthia presenting a self-care class for adults with a chronic pulmonary disorder.
Schedule of 2017 Self-Care Classes
Massage Therapy CEU's, provided by NCBTMB, are available for some self-care classes.


Self-Care:
Weekly drop-in Jin Shin Jyutsu Self-Care
Guided hands-on self-care and meditation to spark your harmony for the week ahead. Each evening we'll learn and utilize simple JSJ techniques that relax and energize body, mind and spirit.

Date: Most Mondays in Winter and Spring,beginning January 30, 2017.
5:30 - 6:45

Fee: TBA
Location: 1114 Hickox St. (across the street fromTune-up Ccafe), Santa Fe, NM
Organizer: Uzi Broshi
Phone: (505) 474-7006
Cell: (510) 290-7989
Email: uzibroshi@gmail.com
Self-Care:
Getting to KNOW (Help) Myself

An Introduction to Jin Shin Jyutsu.
Date: February, 2017, exact date TBA

Fee: TBA
Location: Santa Fe, NM
Organizer: Uzi Broshi
Phone: (505) 474-7006
Cell: (510) 290-7989
Email: uzibroshi@gmail.com
Self-Care:
Getting to KNOW (Help) Myself.

An Introduction to Jin Shin Jyutsu.
Date: May, 2017, exact date TBA

Fee: TBA
Location: Santa Fe, NM
Organizer: Uzi Broshi
Phone: (505) 474-7006
Cell: (510) 290-7989
Email: uzibroshi@gmail.com