Hands-on Intensives
Akin to Spring-cleaning your house, an Intensive deeply clears and renews, throwing out the old and making space for new life in body, mind and heart. One to three weeks of twice-daily (or daily) hands-on sessions instigates and supports profound change. While the functions of elimination are energized, the re-building and strengthening of the body's capacities and new ways of being establish. When there are chronic conditions limiting one's physical or mental functions, an intensive is an efficient route toward wholeness.
Many have found that receiving Jin Shin Jyutsu before, during or after medical treatment supports the body's capacity to benefit from medications and medical procedures. An intensive is an opportunity for deep rejuvenation and to come back in touch with one's connection to the force of Life.
"A breakthrough is to go beyond limits.
Limits are imposed by our selves."
Mary Burmeister
Uzi and Cynthia offer intensives in their Santa Fe (in town) office and also in a retreat setting half an hour outside of town. Intensives are sometimes offered in other locales, throughout the world, as well.
For Jin Shin Jyutsu students, study sessions can be scheduled with Cynthia during the week(s) of hands-on sessions. We can utilize the Intensive as a journey of experience and understanding in which our KNOWing the Art of Jin Shin Jyutsu is deeply nurtured.
If you'd like to schedule, or have questions regarding an Intensive, please contact Uzi (uzibroshi@gmail.com).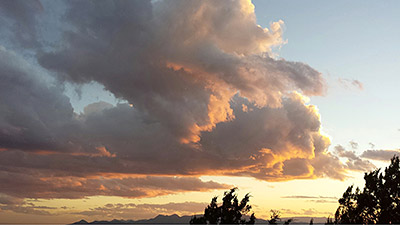 The space and quiet of our guestroom can support the JSJ Intensive week.