Cynthia Broshi
As a child the mountains and deserts of California were my frequent classroom and spiritual haven. I received a BFA in painting and sculpture from the San Francisco Art Institute in 1976 and taught visual arts, performance and writing in public schools in San Francisco for six years.
It was through my young daughter, born with a life-threatening condition, that I became aware of Jin Shin Jyutsu. Using the self-help techniques daily, my aches and pains dissipated. By utilizing them for Lucy I could help her sleep, eat and feel better. Best of all, in Jin Shin Jyutsu I found my key to enjoying our life together — challenges and all.
My studies with Mary Burmeister began in 1985. As well as attending her seminars ('85-"90) i studied by receiving frequent hands-on intensives with Mary and her assistant, Pat Meador, over a ten-year period.
The first class with Mary was equally devastating and exhilarating. Suppositions — beliefs in lack and limitation — which had snugly restricted my life came into question, as a universe of possibility and mystery, awaiting exploration, opened up. I was handed back the childhood bliss known through nature's embrace: our innate Unity. My trust in the Universe and humanity was rekindled.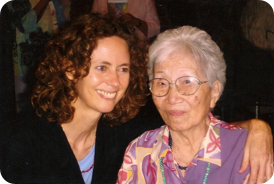 After that first class I started working hands-on with Lucy's roommates at the hospital (years later their doctor told me he wished he "could bottle that stuff"), with friends and other family members . . . gradually a practice developed. Through many years, as my practice grew, Jin Shin Jyutsu elongated Lucy's lifespan and gave her great vitality. When her time came it supported her in the process of dying. It energized me through those years of caregiving and provided my keel through the process of grief and renewal.
I started teaching Self-Help classes 28 years ago, and have been an authorized Instructor, presenting the Jin Shin Jyutsu 5-Day Seminars, Special Topic, Mentorings, Study Groups and Self-Help Classes internationally, since 2002. I provide hands-on sessions at our office in Santa Fe and our home office between Cerrillos and Galisteo, NM.. Every day is a study of Jin Shin Jyutsu.
To the hands-on practice and classes I bring a blend of intuition and science learned while complementing my daughter's medical regimen with Jin Shin Jyutsu, My creative work as a visual artist and poet clarifies and colors my teaching. It is an honor and joy to share this Art of laughter, love and Source.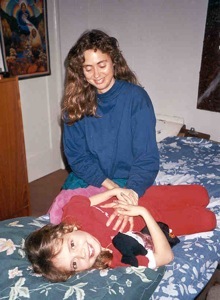 "Birds songs in Spring
give the spark of life to seeds bursting forth"
Mary Burmeister